March 19, 2019
Chiune Sugihara Sempo Museum opening ceremony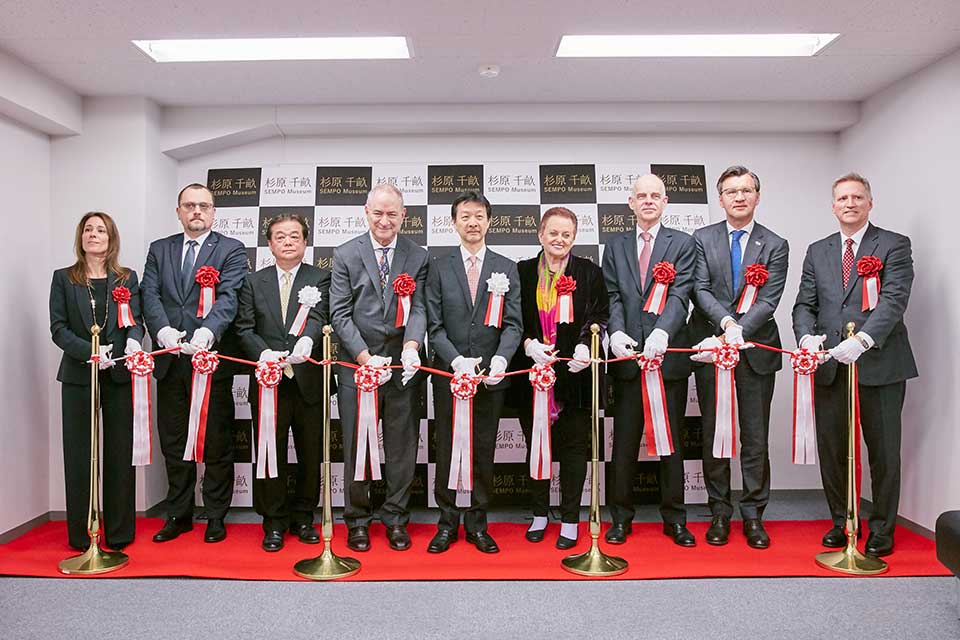 Canadian Deputy Head of Mission Nadia Burger, Polish Ambassador Jacek Izydorczyk, Noboru Kawasaki, George Bluman, Chihiro Sugihara, Israeli Ambassador Yaffa Ben-Ari, Dutch Ambassador Aart Jacobi, Lithuanian Ambassador Gediminas Varvuolis, US Deputy Head of Mission Joseph Young
The museum was officially opened today in a special ceremony. Chihiro Sugihara, Chiune's grandson and chairman of NPO Chiune Sugihara Visas for Life, spoke movingly about his grandfather's legacy and the museum's mission. His speech is reprinted in full below. The ambassadors of Israel, Lithuania, Poland and the Netherlands and the deputy ambassadors of the US and Canada each offered remarks as well.

A highlight was the speech by George Bluman, whose parents were among those desperate refugees saved by Sugihara's actions. George, who flew in from Vancouver with family members for the event, told the story of his parents' harrowing rescue and eventual refuge in Canada. He and his family have generously loaned their parents' passport with the famous Curaçao visa and Sugihara stamp, the slim (and remarkably well preserved) document that he noted is responsible for their very existence. The passport, placed on prominent display next to Chiune's memoirs, is a vivid reminder of the unimaginable circumstances faced by the Jews in Europe and the acts of generosity and humanity that saw them through. The names of George's parents are inscribed on the wall in the museum listing the over 2,000 Sugihara visa recipients, and he unexpectedly spotted them as well in one of the photos of the Jews in Japan.

Other participants included a former Japanese Cabinet minister, representatives from Japan's Ministry of Foreign Affairs, other members of the Sugihara family and numerous media representatives. The successful festivities marked an auspicious start for the new museum.

Remarks by Chihiro Sugihara, Chairman, NPO Chiune Sugihara Visas for Life
Your Excellencies, Ladies and Gentleman.
We're here today to celebrate the memory and legacy of my grandfather, Chiune Sugihara, whose selfless actions nearly eight decades ago saved the lives of thousands of innocent people for the crime of being who they are. It is tough to imagine now how difficult the decision was. He never saw these people before, had no reason to think he would ever see them again. He could have just closed the door and forgotten all about these anonymous refugees, who would have disappeared faceless and nameless in the void of history while he alone went on to a better life. As we know, he thankfully decided otherwise, and the story of that bold choice is told on these walls.
I wish to thank first the diplomats from various nations who have taken their time to join us today.
Ambassador Gediminas Varvuolis of Lithuania, the stage where this all happened in the beautiful city of Kaunas.
Ambassador Jacek Izydorczyk of Poland. The vast majority of the refugees were Polish citizens, and the incident reflects the determination of the Polish people to fight back and shape their own fate at a difficult time in their history.
Ambassador Aart Jacobi of the Netherlands. Dutch honorary consul Jan Zwartendijk, at great danger to himself and his family, issued the critical Curaçao visas that made my grandfather's deeds possible. Without his courageous actions, none of us would be in this room today. I think he sometimes gets left aside in this story, but not by us. We commemorate his bravery here on these walls alongside my grandfather to ensure that his legacy is never forgotten.
Deputy Heads of Mission Nadia Burger of Canada and Joseph Young of the United States, along with other representatives from those embassies. Those countries, the destination for most of the refugees, were then as now a light unto the nations for those everywhere seeking to escape tyranny and persecution.
Finally, Ambassador Yaffa Ben-Ari of Israel, a country that didn't even exist at the time. While we joyfully recall the 6,000 lives that were saved in Kaunas, we must never forget the 6 million others who did not have their Sugihara, their Zwartendijk, their Wallenberg, their Schindler. It is in their memory as well that we have established this museum, and Israel is the guarantee that the Jewish people will never have to rely on others to ensure their survival. We appreciate your joining us today.
We do not have time to name all the others who have kindly gone out of their way to help us commemorate this occasion, but rest assured that we are deeply grateful to each and every one of you. It is our great hope that this museum, the first Holocaust-related facility in Tokyo, will be not only a commemoration but an inspiration that we are all here together in this world and, in my grandfather's words, that "humanity and compassion come first".
Thank you.