July 17, 2019
Special Exhibition: "Beyond Duty: Diplomats Recognized as Righteous Among the Nations"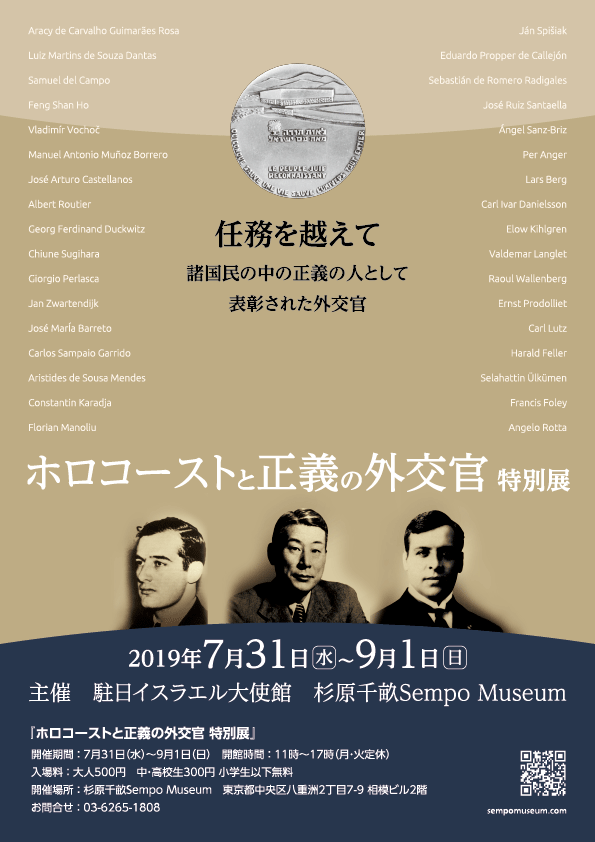 The Chiune Sugihara Sempo Museum and the Israeli Embassy in Tokyo are pleased to announce a special joint exhibition entitled "Beyond Duty," honoring the 34 diplomats from around the world who have been designated as Righteous Among the Nations by the Yad Vashem Holocaust Remembrance Center for their heroism in rescuing Jews during World War II. The exhibition, which has traveled to 70 nations in twenty languages, celebrates the courageous deeds of these diplomats with a focus on nine select individuals, including Sugihara, who risked their lives and careers to save those in need amidst the unspeakable horrors of the Holocaust.
The museum will supplement this with a special selection of previously unreleased items related to Chiune Sugihara in addition to the permanent collection.
We look forward to seeing you for this important exhibition.
"Beyond Duty: Diplomats Recognized as Righteous Among the Nations"
July 31 (Wed) – September 1 (Sun)
11:00am – 5:00pm (closed on Mondays and Tuesdays
(The afternoon of July 31 is by invitation only.)
Chiune Sugihara Sempo Museum
2F Sagami Building, 2-7-9 Yaesu, Chuo-ku, Tokyo
TEL 03-6265-1808
Sponsors; Israeli Embassy in Tokyo, Chiune Sugihara Sempo Museum